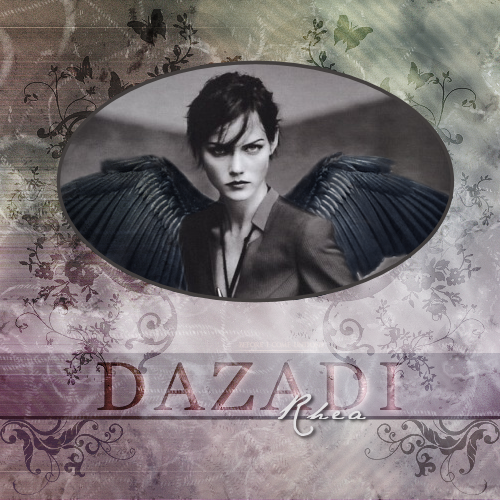 Sabrina's silence allowed Dazadi to slip into her own reverie, hypnotised by the sucking sound and pulling motion of the cub feeding. It was so strange. She'd always done anything she could to avoid having to feed her son when he was a baby, scared stupid of what could happen if she did something wrong. She'd known she wasn't mother material and no matter how many times Kade tried to reassure her, she was convinced he knew it too.
Honestly, she hadn't
wanted
to be a mother. She loved Wolf more than anything in the world but she'd never imagined herself being responsible for another person. Being a lifemate was tough enough. So why, then, was she finding it so easy -
appealing
, even - to mother this strange little creature? There was no less responsibility. There was probably more, actually. And yet...
"Will you be able to take care of him... her... it?"
Startled out of her daze, Dazadi glanced across the at the girl with a small frown. That was a good question. What the hell gender was this thing anyway?
"Two chances,"
she groused, pulling a face.
"But I'm sure Xanthy-poo will stick that big fat nose of hers in if I mess up bad enough."
This was actually said with an undercurrent of affection for the goddess rather than her usual acerbity, but Dazadi wouldn't have admitted it even if she'd been aware of it.
The cub's mouth popped off the bottle's teat and he gave a mighty yawn, apparently done with his meal. Daz watched him, her head tilting like that of a curious bird, and she set the bottle on the table. As it curled up and went back to sleep, Daz reached for her bun and bit in with relish, eyeing Sabrina over the top of it. Speaking with her mouth full, she searched for another topic of conversation, oddly reluctant to leave just yet.
Figuring she may as well stay on the topic of animals, since the only other thing she'd find interesting was a discussion on weapons or battle tactics and the girl didn't look like she'd know the pointy end of a sword from the hilt, Daz muttered,
"So how long have you had that thing, uh, Eva, anyway?"