KIEL TASKEL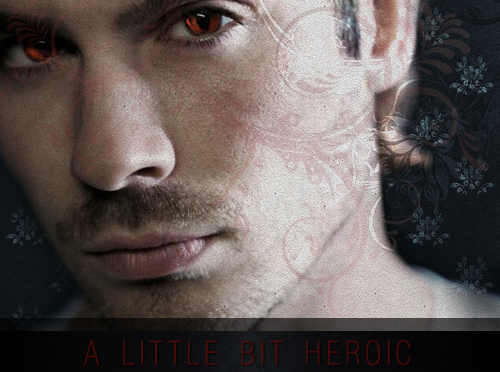 Bonded Rutilus Dracovarian
MALE | 478 | MERCENARY | DARDANIAN | LEAGUE OF PROTECTORS
Height:
5'9"
Build:
Slender, bordering on skinny, a few muscles
Eye colour:
Pale red (kind of pink but Kiel won't readily admit that) with a darker red ring around the iris
Hair:
Brown with strands of blonde and red. Short but messy.
First Impressions:
He is a runt by Dracovarian standards so his eye colour clashes with his height and build. He is almost always eating, wears clothes with pockets on almost every surface (all of which are jammed with snacks and knick knacks), and he is never still. He can seem like a talkative and naive teenager who has run away from home with his father's weapons.
Distinguishing Features:
Kiel has a tribal armlet tattoo circling his upper right arm.
Play-by:
Ian Somerhalder
Kiel is incurably cheerful, easy-going and hyperactive. He's never met a stranger and isn't touched by issues like racism or sexism because he takes people as they are, not by their stereotypes. He can be obnoxious in his friendliness but he has an incorrigible sense of humour that tickles him probably more than it does anyone else. He is also never still, having a tendency to bounce on his toes or to fidget. Having verbal diarrhea, he tends to spit out almost every thought that springs to mind. As a result, he's apt to getting into trouble because he doesn't suffer bullies gladly and can't keep his big mouth shut. If you're hungry, check his pockets. He usually has at least half a dozen snacks on his person somewhere, although most are probably half eaten already.
Name:
Ezekiel Taskel
Birthdate:
Tesseminas 2, 9533 XA (2nd of December, 1533 AD)
Hometown:
Taskel Holdings, Dardanos
Financial Status:
Fluctuates
Family:
Taskel Family
Marital Status:
He has a boyfriend
Partner:
Zephyr Cairbre
Children:
None
Father:
Matthias Taskel
Mother:
Reggie Taskel
Siblings:
RayRay
,
Lacey
,
Tad
,
Pheebs
,
ChloChlo
Paternal Grandparents:
Ezekiel & Heloise Taskel
Maternal Grandparents:
Obediah & Natalia Valen
Skill Master:
Zephyr Cairbre
&
Vander Pace
Boss:
Zephyr Cairbre & Marty Clausson
Currently on loan to the Alexandrian City Guard
Organisations:
League of Protectors
attached to the Alexandrian City Guard
Kiel is the fourth child in a family of six with two older brothers, an older and two younger sisters, and was born and raised on a landstrider farm in a quiet town in Dardanos. He dotes on his youngest sister just as the rest of his family does, but he has a special relationship with her as they're very similar. Both are almost allergic to academia and are much more emotional than the rest of the Taskels who are, almost to a one, serious, straight-faced and taciturn.
That said, while Kiel's relationship with his father is strained due to Matthias' inability to accept Kiel's oddball mentality, Kiel enjoyed his childhood. His brothers teased him mercilessly, as older brothers are wont to do, but there's real affection between them and he really looks up to them for their different achievements. He's less affectionate towards his middle sisters, Lacey and Phoebe, but he still loves them dearly. His best relationships, though, are probably with his mother and the youngest sister, Chloe.
He hated being schooled by his mother and anything related to studying, so Kiel's known for a long time that the more mental Septs were out of his league (especially Peteulanus). He had been semi-training in preparation for joining the Rutilus Sept for a few years, but wasn't particularly enthusiastic about the idea as he didn't relish the thought of getting hurt or having to hurt others. In fact, he would probably have chosen not to join a Sept at all and follow more in his brother Ray's footsteps if he didn't want a dragon of his own so badly. That said, he isn't averse to fighting and enjoys it most of the time, especially when he's training with Zeph.
HOUSE
Address:
#2A Forest Road, Alexshire
Tier|Type:
1|Flat
Description:
It was a fixer-upper when Kiel moved in, but he's done the place up proud now. A two-up two-down that's half of a detached house, he sublets from an old woman whose family moved away, leaving her to foot the bill for a too-big house. It's a short (for him, at least) walk to both his workplaces (and food), but still close enough to the fields for him to play with Shane.
SHOP
Address:
Alexshire
Description:
Dragon Scales Smithing
isn't actually Kiel's shop. It belongs to his boyfriend, Zephyr, but Kiel still works there part-time and helps out even when he's not meant to be there.
DRAGON
Name:
Prianakerani
Species:
Dragon
Class:
Draconi
Gender|Age:
Female|?
Description:
Kiel's bond with Pria is brand new, so there's bound to be some rough spots, but Kiel already adores her — and not only because she's a dragon, or just because she's the first draconis in his immediate family. Pria is a rutilus dragon, and barely out of infancy. It seems like she'll enjoy Kiel's company once they've developed their bond a little, since she's as energetic as he is, and quite enthusiastic about having a partner.
COMPANION
Name:
Shane
Species:
Shadowkin
Gender|Age:
Female|?
Description:
Shane is shadowkin, and by her very nature "the coolest creature in existence". Kiel adores her, dotes on her, and is very rarely separated from her. They love running together and playing chase, but they also enjoy snuggling together on the sofa. Shane is very possessive of her Chosen, but it's made Kiel extraordinarily happy. She's filled a lonely hole inside him and he can't imagine what his life was like before her.
COMBAT GEAR
Item:
Dragon Claw (Katana)
Description:
Black and silver, his replacement replacement katana has a four-pronged "claw" at the base of the hilt and a pewter dragon head at the top (like
this
). The eyes of the dragon on the hilt are tiny rubies and the blade is edged with diamonds so it can cut through (almost) anything. He found it in the treasure pulled from
Dionica
but it was later badly damaged and then lost in
Acantha
.
Item:
Pair of Hook Swords
Description:
A "totally badass" pair of hook swords that were a gift from Zeph for his 477th birthday. "How awesome is that?!"
Item:
35 Throwing Knives
Description:
Originally a set of 20, Kiel's knives have been dwindled down to next to nothing thanks to various monsters eating them, and then he bought some more.
Item:
Boomerang
Description:
"A redwood boomerang engraved with a dragon that looks suspiciously like Pria" from Xanth's Grotto 2011. He's not very skilled with it at present.
Item:
Black Rose Flask
Description:
A silver flask that has two compartments, one with 10 uses of tepumine (for life-threatening injuries) and the other filled with 10 uses of golding (for major injuries). The flask bears the emblem of the Black Rose cabal, and the number of the Crypt's main COM is engraved on the bottom. This flask enables Kiel to call the cabal if he ever needs their help. (Reward from the Great Vampire Hunt.) The original potions have been used up, but Kiel refilled it so it still holds 10 uses of tepumine and golding each.
Item:
5 Carsic Acid
Description:
Set of 5 containers of carsic acid. (Reward from the Dionica Crucible.)
Item:
8 Flash Grenades
Description:
See
Prize Shop
description. It is assumed that Kiel used 2 off-screen during the Acanthan Arc.
Item:
1 Tepumine
Description:
For major to life-threatening injuries. Originally a box of 5, he used 2 to refill his Black Rose flask which was then emptied during the
Acanthan Arc
. He has now refilled it again using 2 tepumine vials from this set, leaving him with just one vial that is kept in the box at home.
Item:
1 Golding
Description:
For moderate to major injuries. 2 were used to refill his flask for the
Acanthan Arc
, both of which were used up. 2 more have been used to refill it since, leaving him with just one vial that is kept in the same box as the tepumine back home.
Item:
Jademine
Description:
A glass vial filled with enough jademine for 3 uses. (Reward from Xanth's Grotto 2010. Used during the Anorian Expedition.)
MISCELLANEOUS|MUNDANE
Item:
Remnants of his first katana
Description:
A "really cool katana that I bought from Zeph. Like, that's how we met, actually". It was red with a gold blade and gold trimmings. The blade was melted by acid-spitting wormlings during his involvement in the Anorian Expedition, but he keeps it as a keepsake, hung on the wall in his bedroom, of his first real weapon. Zeph has attempted to "fix it, fix it!" but then scrapped it for materials.
Item:
Remnants of his replacement katana
Description:
A gift from Zeph for his 478th birthday, this one had a steel blade, a black hilt, a ravenwood sheath and silver embellishments. Kiel was disappointed that it was so colourless until he saw the silver dragon embossed on the sheath. And then it got eaten by a kumo during the Dionica Crucible, leaving only the top of the hilt for him to mount on his bedroom wall.
Item:
A beaten backpack
Description:
He carries it everywhere with him and it's usually stuffed to the brim with snacks, any packages he's meant to be delivering, and sometimes Shane in her monkey form.
Item:
Hats
Description:
He has a pretty big collection of hats which includes 1 red-and-pink tartan bomber hat lined with thick faux fur (Xanth's Grotto 2009) and 1 gorgeous newsboy-style hat made of green cotton canvas and adorned with three long feathers, gold ribbon and various buttons (478th birthday present from Nicolay Armitage).
Item:
Stuffed dragon
Description:
A stuffed, dark pink dragon about six inches long. It's wearing a colourful, handmade scarf and a goofy expression. Its wings are meant to be re-posable but tend to flop to one side. (Reward from Xanth's Grotto 2009.)
Item:
Thief-proof Wallet
Description:
A brown and beige leather wallet covered in cutesy characters. It has a chainlink strap meant to attach the wallet to a belt to help prevent theft, and a cute little metal mushroom charm hanging from the clip. (Reward from Xanth's Grotto 2009.)
Item:
Ruby
Description:
A thumbnail-sized, flawless ruby from the Agraian mines. (Reward from Xanth's Grotto 2010.) It's assumed he has used this and more since he bonded with Pria.
Item:
"Latin for Dummies"
Description:
A book intended to teach Latin. (Reward from Xanth's Grotto 2010.)
Name:
Emma
Referred by:
I made the site, whee!
Gender|Age:
Female|30
Random Encounters:
YES
Permissions:
Kiel is very touchy-feely so feel free to glomp him at will. He's also kind of obnoxious and for some reason brings out the worst in people, so you can also feel free to swat him upside the head at random too. However, please give me chance to react (and swat
me
if I get too ahead of myself with him) because he's unpredictable. Injuring him is fine but I am very attached to this character, so please no transforming, torturing, killing, etc.
Plotting:
YES GOD YES
Other Characters:
Xanth, Dazadi, Piper, Faroah, Maaike, Zozeko, Jericho