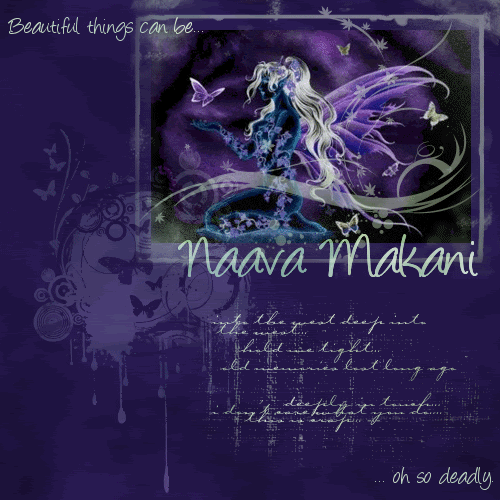 Naava sat on the edge of the fountain's pool, her bare feet extended into the water itself, resting lightly with their smooth heels brushing the delicate mosaic basin's floor. With one hand on her bag, and the other on Flit's leash, Naava let her mind roam absently as she sat in what had become her safety zone. Carefully taking in everything, Naava diligently absorbed each sound, scent, and feeling. From the giggles of a pair of children playing tag across the square, to the clingy tears of a girl being dumped. From the sickly sweet aroma of a caramel apples stand, to the intricate aromas of the tea shop just a few yards from her resting place. From the gentle tugging of Flit trying to squirrel away random crumbs, to the soft rippling of the water as a young girl splashed her father.
Letting out a soft, satisfied sigh, Naava gently kicked her feet, adding to the ripples of the tumultuous fountain. She'd started coming here almost every day almost six months ago when she'd lost her memory. At first she'd hoped someone would recognize her, some how spark some semblance of memory inside her mind, but as time went on her memories had slowly begun to return of their own accord, and now she came here to center herself. Her past was returning, and if it was as horrible as she was beginning to think it was, then she no longer wanted any part of it.
Letting her memories drift away on the droplets of spraying water, Naava breathed out another sigh to calm herself. There was something... special, about the water. something the calmed her. The other Anyeli in her training classes teased her about it when she'd asked an instructor if they were ever going to do swimming lessons. That
wonderful
teacher had spared no shred of kindness for the girl as he explained that very few Anyeli ever actually learned to swim. That many, if not most, pointless Anyeli deaths were due to the water. He'd spared no detail in describing exactly how the water effected Anyeli wings. How they become like lead, causing the Anyeli to sink and, if the water was deep enough, either drown or crush the person under the immense aquatic pressure. He'd spared no expense in trying to terrify Naava of something she loved so much.
Opening her eyes in a scowl, Naava sat forward abruptly.
"Stupid Beneus. Stupid wings,"
she whined quietly. Suddenly Naava found herself remembering being wrapped in a big towel by a fireplace, as a man yelled in the background about her nearly drowning, while a woman calmly tried to explain she'd had everything under control. Back into the present, Naava sat froward, soaking the edge of her skirt in the churning water beneath her. Those two people were in her memories a lot... if only she could remember who they were.
Shaking her head abruptly, Naava wiped the memory out of her mind again. This wasn't time for contemplation, this was time for relaxation.
~~~Credit
Layout from
Piper's Boutique
.
Texture from
Aethereality
.
Angelina font from
Dafont
.
Brushes from and
Ca-pris
and
Aethereality
.
Image from
Photobucket
.