I'm writing a new ad for EF because the old one doesn't really give any info about the site at all and with what the Arc is (hopefully) bringing to the table, it's about time we got an update anyway.
But, I suck at writing ads, so I could use some feedback from you guys. Does this give the right impression for EF? Should it be less about the jokes and more formal? Spaced different, etc etc? Whatever your thoughts, please share them
and I'll give you cookies
!
---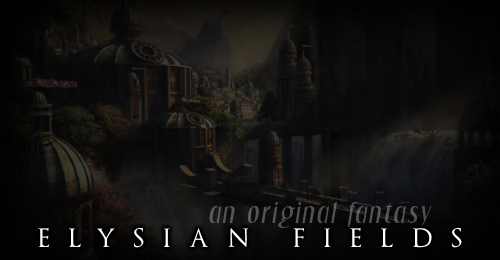 ELYSIAN FIELDS
an original fantasy
Elysia was created by a self-proclaimed goddess to be a paradise for her Children, non-humans and dragonkin fleeing the prejudices of Earth.
It hasn't stayed that way. Pockets of civilisation are linked across a vast and verdant world by bandit-riddled trade routes and monster-infested wildlands.
Elysia is a multicultural melting pot stricken by civil war, political machinations and racial prejudice.
Life is tough. Life is hard. Life is YOURS. Make of it what you will.
Offerings:
+ Four separate realms to explore and create!
+ An original setting developed by the members for the members.
+ A fun and friendly community built by zany, intelligent and wonderful people.
+
A cbox full of cookies.
(The cookies are a lie. The cbox isn't.)
+ Six unrestricted humanoid races to play and at least two more on the way.
+ An easy-to-use skill system that encourages character customisation and pwnage.
+ A shiny wiki full of user-submitted lore and hidden gems for you to explore and add to!
+ Regular special events, contests and challenges: anything from
Design a Creature
to celebrating Xanth Day.
+ Quests and plots to draw characters together
and toss chaos around like confetti
.
+ Trophies and achievements you can choose to unlock LIKE A BOSS.
+
Roleplay.
Lots and lots of fun, awesometastic roleplay!
THE ACANTHAN ARC
ongoing site plot
Something stirs in the forest. A new portal has opened and through it comes a tribe of ruthless warriors.
They take what they want. They kill without mercy — and there are more of them on the way.
Can a few good Elysians stop the encroaching invasion, or is this about something else entirely?
YOUR CHARACTERS. YOUR CREATIONS. YOUR GAME.
HOME
||
INTRO
||
GETTING STARTED
||
ADVERTISE
[url=http://faroah.com][img]http://i6.photobucket.com/albums/y235/freesong_adoptables/ad2012.png[/img][/url]
[b][url=http://faroah.com]ELYSIAN FIELDS[/url][/b]
[i]an original fantasy[/i]

Elysia was created by a self-proclaimed goddess to be a paradise for her Children, non-humans and dragonkin fleeing the prejudices of Earth. 

It hasn't stayed that way. Pockets of civilisation are linked across a vast and verdant world by bandit-riddled trade routes and monster-infested wildlands. 
Elysia is a multicultural melting pot stricken by civil war, political machinations and racial prejudice.

Life is tough. Life is hard. Life is YOURS. Make of it what you will.

[b]Offerings:[/b]
+ Four separate realms to explore and create!
+ An original setting developed by the members for the members.
+ A fun and friendly community built by zany, intelligent and wonderful people.
+ [s]A cbox full of cookies.[/s] (The cookies are a lie. The cbox isn't.)
+ Six unrestricted humanoid races to play and at least two more on the way.
+ An easy-to-use skill system that encourages character customisation and pwnage.
+ A shiny wiki full of user-submitted lore and hidden gems for you to explore and add to!
+ Regular special events, contests and challenges: anything from [i]Design a Creature[/i] to celebrating Xanth Day.
+ Quests and plots to draw characters together [s]and toss chaos around like confetti[/s].
+ Trophies and achievements you can choose to unlock LIKE A BOSS.
+ [b]Roleplay.[/b] Lots and lots of fun, awesometastic roleplay!

[url=http://faroah.com/index.php?showforum=70][img]http://i6.photobucket.com/albums/y235/freesong_adoptables/acantha_sig.png[/img][/url]
[b][url=http://faroah.com/index.php?showforum=70]THE ACANTHAN ARC[/url][/b]
[i]ongoing site plot[/i]

Something stirs in the forest. A new portal has opened and through it comes a tribe of ruthless warriors. 
They take what they want. They kill without mercy — and there are more of them on the way. 

Can a few good Elysians stop the encroaching invasion, or is this about something else entirely?

[b]YOUR CHARACTERS. YOUR CREATIONS. [i]YOUR GAME.[/i][/b]

[url=http://faroah.com]HOME[/url] || [url=http://faroah.com/efwiki/index.php/Main]INTRO[/url] || [url=http://faroah.com/efwiki/index.php/Main/GettingStarted]GETTING STARTED[/url] || [url=http://faroah.com/index.php?showforum=48]ADVERTISE[/url]